RACES PRESENTATION
THE NEXT EDITION WILL TAKE PLACE ON FEBRUARY 04-05, 2023
Many of you, having the experience of Ultra-Trail®s asked us to organize this type of event in a setting and context that you used to appreciate during these long years on "Les Foulées de la Soie". With our experience in racing abroad, we listened to you and we therefore launched "Ultra-Trail® from Angkor" at the archaeological site of Siem Reap in Cambodia.
The numerous testimonies in return to this test confirm us in this continuity. We invite you to read these testimonials: https://ultratrail-angkor.com/?page_id=3254&lang=en
Angkor was the political center of the country from 802 to 1432. On 400 km ², this exceptional site is characterized by several gigantic Mountain temples in the middle of dense vegetation. 6 events will be held during this weekend: The Ultra-Trail® of Angkor will cross Siem Reap, the largest monument in South East Asia and many other prestigious sites listed as World Heritage by UNESCO. You will evolve in a case of prestigious landscapes, on a vast territory where rice fields, forests, villages, landscapes of surprising diversity are already reaching out to you. 6 scheduled races including a Nordic walk and a walk and hike, each with their own challenge :
Elephant Trail Angkor – 8km
Angkor walk and hike – 16 km (not timed)
Nordic Walking Angkor – 16 km (not timed)
 Temple Run Angkor – 16 km
  Jungle Trail Angkor – 32 km
 Marathon Trail Angkor – 42 km
 Bayon Trail Angkor – TA 64 km
  Ultra Trail d'Angkor* 100 km
In this race, there will be the possibility of running in relay (4 runners in relay of 25 km each, with a collective arrival of the 4 torchbearers – the regrouping of the 4 torchbearers will be 3 km from the Final Arrival)
To perfect this distant sports weekend, we will organize a tourist week around these Temples: https://ultratrail-angkor.com/?page_id=7662&lang=en   Note that you have the option of registering for this tourist trip, even if you are not taking part in the events mentioned.
Different challenges are offered to you: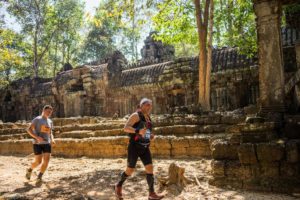 Challenge "MASTER RELAIS UTA 100": For teams of four runners participating in the Ultra-Trail® of Angkor (100 km) in relay – Companies / Cities / Regions / Military and high school or others: clubs, branded teams ,…, Provided that you have 7 (seven) official teams registered for the start of the event. This event will be contested in a relay of 4 runners each covering 25 km – The four torchbearers must cross the finish line together, the grouping taking place 3 km from the finish.
"Team UTA 100" team challenge: For teams of three to five runners participating in the Angkor Ultra-Trail® (100 km) – (men's or women's or mixed teams, same ranking). The classification will be made by adding the 3 best times made by each of the participants. The team which has taken the shortest time will be declared the winner.
OPEN TO ALL
"If walking and running were our only goals, we would miss out on many unforgettable moments"
"Escape, walk or run while being interested" is the peculiarity of SDPO which, in addition to its sporting challenges, offers intelligent tourism based not only on discovering a country but also on relationships.
It allows all nationalities to rub shoulders, to measure themselves sportively, to discover themselves quite simply and to discover the life of the local populations.
In short, a total change of scenery guaranteed! But also respect for others, human and sporting values.
CAMBODIA, SOUTH AFRICA, GERMANY, AUSTRALIA, BELGIUM, ARGENTINA, CAMBODIA, CANADA, CHINA, DENMARK, SPAIN, FRANCE, HONG KONG, HUNGARY, INDONESIA, IRELAND, ISRAEL, JAPAN, NEW ZEALAND, NORWAY, PHILIPPINES, POLAND SINGAPORE, SOUTH KOREA, SWEDEN, SWITZERLAND, TAIWAN, THAILAND, TURKEY, UNITED KINGDOM, USA, VIETNAM, ITALY, CROATIA, PORTUGAL, INDIA, SLOAVAQUIA, UKRAINE, MEXICO, FINLAND, BRAZIL, LATVIA, SRI LANKA, ITALY, NETHERLANDS, NETHERLANDS, NETHERLANDS POLAND, 44 countries participated in the event in 2020.
Fidèles à notre concept, nos parcours sillonneront également campagnes et villages traditionnels.
All our tests take place away from the main axes. The scenery is guaranteed. You will discover and get closer to the populations and will be moved by the warmth of the meetings, and the richness of the Exchange. These will encourage you along the paths of the most isolated villages and countryside.
And what strengths for SDPO?
A very unifying approach sportingly for all participants in travel.
New routes
Cultural immersion in the midst of local populations who even participate in sporting events
A proven organization and security system.
The declination of the sport in the comfort of a good plate and a good lodging!
TOURIST CIRCUIT AROUND THE EVENT
To take full advantage of your sports trip to Cambodia, SDPO and its partner "PHOENIX Voyages" offer you a tourist trip around this sporting event.
Several possibilities are offered to you: