RACES PRESENTATION
ANGKOR ULTRA TRAIL, 18th and 19th of January 2020
This is the 5th edition of the Angkor Ultra Trail.
The new routes, crossing varied numerous temples and villages, from narrow paths through dense vegetation, jungle, rice fields (sometimes with water up to the knee) and sandy tracks, have spiced up the 4th edition of the Angkor Ultra Trail. The several testimonies we received after this race have inspired us to continue. We invite you to read these testimonies: https://ultratrail-angkor.com/?page_id=3254
Coming up soon …the January 18th 2020
The Angkor Ultra-Trail® , on the archaeological site of Siem Reap in Cambodia (Listed since 1992 as World Heritage by UNESCO) ,
running past majestic temples , through forests, tiny little rural villages, past rice fields …..you'll never get bored with the variety of this exciting trail event.
To get to know the Angkor Ultra Trail, download the UTA presentation file: Presentation of the UTAngkor (UK)

5 distances and 6 events to cater for all levels:
Walk and hike – 16 km (no time)- 50 euros
16 km Nordic walking – 60 euros
16 km – Temple Run Angkor- 60 euros
32 km – Jungle Trail Angkor – 77 euros
42 km – Marathon Trail d'Angkor – 87 euros
64 km – Bayon Trail Angkor – 97 euros
128 km – Ultra-Trail® Angkor UTA 128* – 165 euros
In this tariff, there is the price of the entrance to the archaeological site. (without the visits)
*Can be completed in a relay of 4 runners each completing a distance of 32 km but finishing as a team and joining up 3 km before the finish.
TEAM CHALLENGES:
MASTER RELAY UTA 128 CHALLENGE for the 128 km relay runners in teams of 4, mixed gender, male or female teams
TEAM 128 km – teams of 3 or 5 runners running together, mixed gender, male or female teams
DUO UTA 128 – mixed teams of two running 128 km together
ANGKOR 224 – teams of 3 runners each taking part individually in one of the individual races: 32 km/64 km/128 km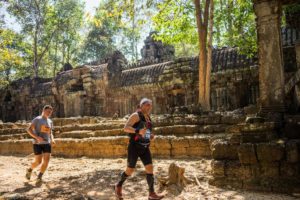 Next year, the third ultra-trail race will take place in the very heart of Cambodia's archaeological site, ranked as a World Heritage by UNESCO with 128 km of breathtaking race in an exceptional surrounding. Runners will cross several wonderful temples sites, evolving through impressive landscapes over a vast area where rice fields, jungles, villages offer panoramas of surprising diversity.
As co-organizer of the event, Phoenix Voyages is looking for representatives all over the world to promote this World Premiere and attract hundreds of trackers, runners and Nordic walkers! If you are willing to become an official accredited agency to represent Ultra-Trail® Angkor 2020, please contact at: sdpo@sdpo.com
Open to everyone
"If walking and running were our only goals, we would miss out on many unforgettable moments"
" Get away , walking, running and learning", this is the sdpo's difference : in addition to the sporting challenges , we offer an intelligent tourism based on discovery and on relationships.
An experience for all nationalities to meet, to compete sportingly, just to discover and experience the lives of local people.
French, Cambodian, Germans, English, Americans, Belgians, Canadians, Koreans, Colombians, Chinese, Swedish, Hispanics, Dutch, Italian, Japanese, Luxembourg, Portuguese, Swiss, Moroccan, Chinese, Indians, Vietnamese, Ireland, Indonesia, New Zealand, Slovakia, Sri-Lanka's, Malaysians, Thais, Croatia, Indians, Russians, South Africans, Filipinos, Norwegians, Netherlands, Mexicans, Argentina, Australia, Poland, …. has already participated in our events.
· Faithful to our concept, our courses will also travel trough traditional countryside and villages.
All races will take place away from the main roads. The change of scenery is guaranteed. You will discover, approach locals and be moved by the warmth by the richness of the Exchange. They will encourage you along the roads of villages and the most isolated areas.