Marathon Trail / 42 km
We have been offering this distance for two years now and the enthusiasm of the participants means that we are counting more and more runners at the start of the marathon in Ta Kos village.
This 42.195 km Marathon Trail will be running on a track, through rice fields and beautiful nature without forgetting the crossing of a multitude of small villages with the Angkor Temples as a background.
The departure will be at Ta Kos village, at 6:00 am, north-east of the Angkor temples then reach the heart of the Angkor archaeological site via Phnom Bok where 700 steps to climb are waiting for you with a splendid view at the top of the hill where you will cross a small temple. Enjoy these exceptional moments before heading back to Banteay Samre, Eastern Mebon, Prae Roup, Prassat Kravan, Tanei, and French Bridge to reach the finish line at the Terrace of Elephants.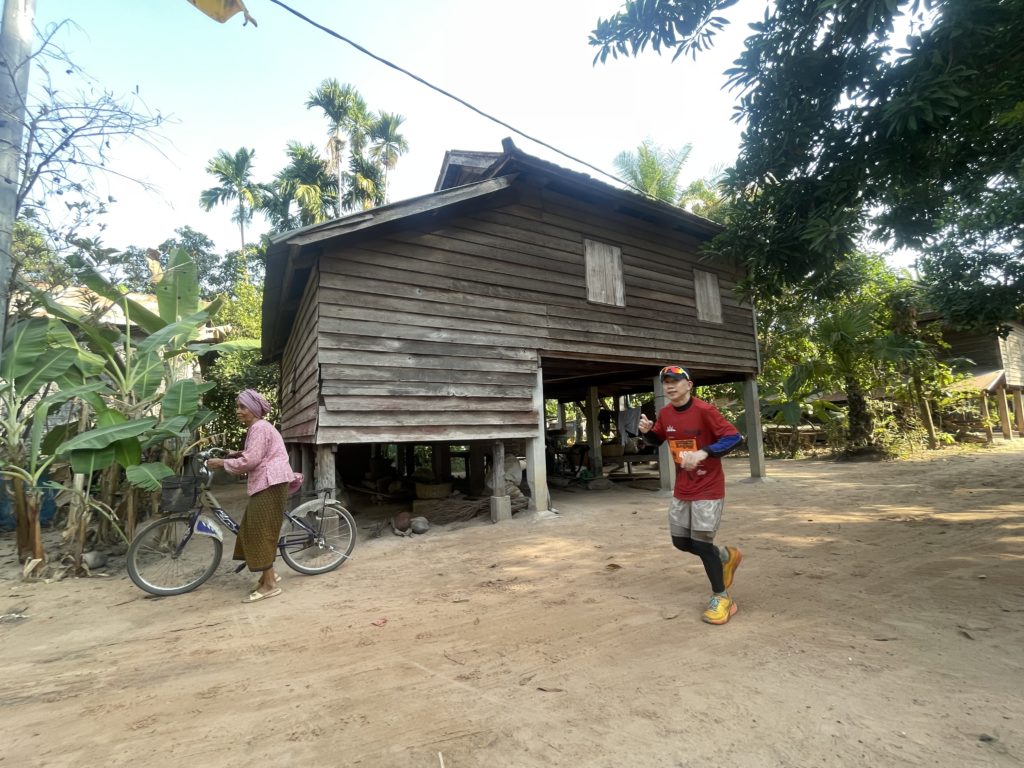 As on the Ultra-Trail®, you will live an extraordinary adventure that you will keep in your memory for a long time. The warm welcome of the locals will make you love Cambodia.

For this seventh edition, we are expecting many of you at the start of this marathon sponsored by our friends from the Médoc Marathon…. You can run this marathon with unique disguises or not.
The soul of the Khmer kingdom, the temples of Angkor are a source of inspiration and national pride for Cambodians and their beauty has always fascinated world travelers.
What a privilege to step on a UNESCO World Heritage Site!
Always listening to you, we have added the Angkor Trail Marathon to the program and will do our utmost to get closer to the 42.195 km and thus have the most accurate distance possible. For the marathon "addicts", we would like to point out that there will be no BLUE LINE painted on the ground, therefore no ideal trajectory for the runners. This is understandable, as this line, which has become official on the major events, is drawn 30 cm from the pavement…. and there are no pavements on our course, as there are on the other 8, 16, 32, 64 and 100 km courses, which are still relevant. 
Marathon Trail Angkor Track– 42 km:
Refueling stations are approximately every 10 km
GPX https://racebooking.sdpo.com/#GPX