Nordic walking – 18 km – without timing
This Angkor Ultra-Trail is also open to Nordic walking. This exercise is an outdoor sport consisting of accelerated walking with specific walking sticks – usually made of composite material.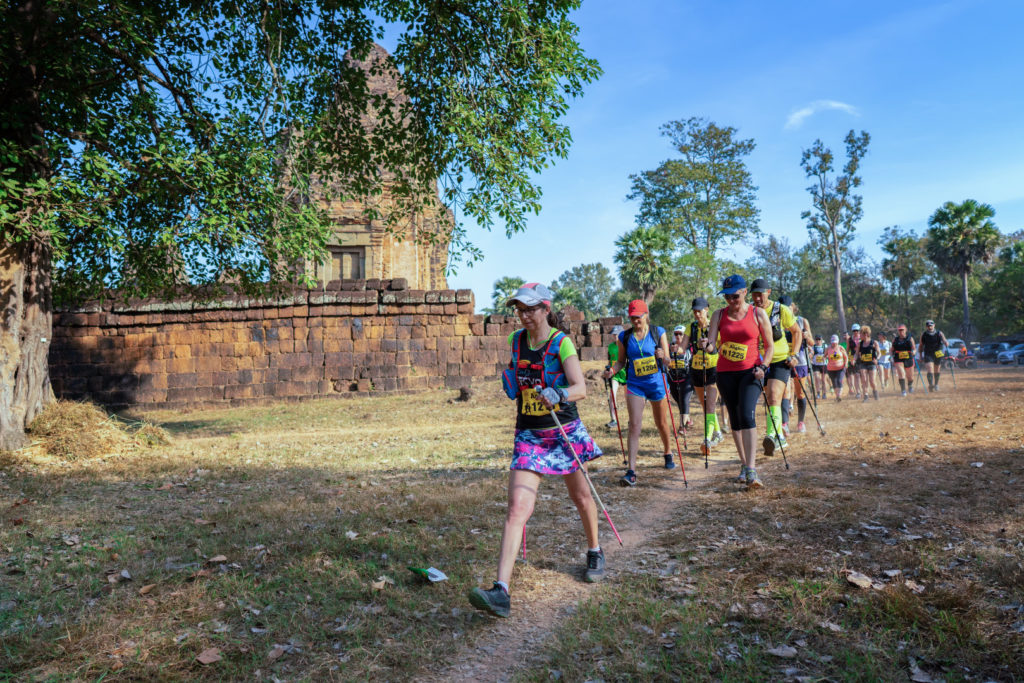 It is a discipline that took off in France in 2009 and SDPO is delighted to offer you this Nordic walk (distance of 18km) on the archaeological site of Angkor (within the Ultra Trail).
Due to a lack of sufficient control and following numerous complaints, we are pleased to inform you that this event will not be timed.
This exceptional event gives the chance for walkers to practice their favorite sport in a site of magnificent beauty – a source of inspiration and national pride to the Cambodian people.
Beyond the temples, this test will allow you to evolve within a luxuriant nature, as well as to cross multiple villages and rice fields. The Cambodian people will also be able to accompany you along the trails!
The starting point will be at the upstream part of the Angkor temples, then to the routes of the archaeological site of Angkor.
With the Ultra-Trail®, you will experience an extraordinary adventure that will certainly be unforgettable. The friendliness of the locals will also only make you love Cambodia even more.
Do not miss the privilege to tread upon a World Heritage Site by UNESCO.
The temples of Angkor – the soul of the Khmer kingdom, serve as a source of inspiration and national pride to the Cambodians. Their beauty has always fascinated travelers from all around the world.
1) Why walk with SDPO?
Confirmed walkers or not, you would certainly want to travel differently by sharing your days between walking and touring. SDPO offers an original concept that will delight all those who want to avoid the discomfort of a solo trip to distant and unknown lands, as well as the rigidity of traditional organized tours
2) What are the characteristics of our organization for walkers?
Our concept is part of an evolutionary approach. Initially reserved for runners, our programs have gradually opened to the category of walkers. In addition, this shared experience with SDPO is considered unique. You have the opportunity to start your sporting route by signing up in a process of personal growth. Some directly experience the "racing" section, while others prefer to cautiously start testing their talents as walkers. Then, they come back later more prepared in the runner category.
3) Is there any particular physical preparation?
The general concept is clear and not surprising: it is a both a cultural and sports journey.
There is no required level. Age diversity of registered competitors (from 18 to 80) should be enough to reassure concerns about the difficulty of the exercise. Even if no specific performance is required, good physical condition is nevertheless desirable to decline a diversified course.
The distance of 18 km and the effort required is limited to the time of day. From there, competitor requirements will impose regular training. Thus, the "no -competitor" ensures a minimum of preparation that will enable them to better take advantage of this exceptional event. Any collective approach requires a minimum of discipline and rigor to the general organization of the day. Finally, be noted that walkers must not run during the competition.
4) If no performance is required, and if all profiles are admitted, then why speak of competitions, races, podiums, settlement for all? Aren't all these concepts not incompatible?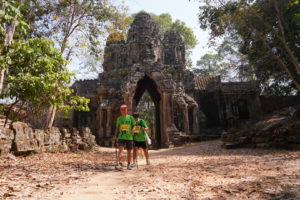 The diversity of the previously mentioned profile walkers must simply allow everyone to satisfy his departure aspirations. Those inspired by a marathon pace, supported with their physical form, and wish to test their level, take this exercise competitively with the hope of recognition and a podium. Maybe one day they will share another adventure with SDPO runners in the category. On the other hand, others prefer to stick to the discovery of "mother nature."
Whatever the motivation: wins or simply enjoying pugnacity or lightness, each person gets to live out their adventure; but all are integrated in a race with its rules, regulation, classification and awards
5) Is there any special equipment?
As for running, a month before the race, SDPO will address you a comprehensive document – showing cultural and sporting careers. You will also see an attached detailed list of obligatory content material and a camel-back. We would also like to remind you that you must wear a cap during the race. 
For Nordic Walking, it is necessary to have a good pair of sticks.